Social Media Marketing company Bangalore
In this generation, most of us wouldn't get time to look at each other, but the depth of any relationship gets replicated through shout outs. Being in the trend, we are the Best Social Media Marketing Agency in Bangalore. We handle every social media platform to pitch your service or product to them in a regular interval, which makes the people think about you when they are in need of it. It's not just designing or posting, but it requires a logical approach that pulls eyes. We are a well-known Social Media Marketing Company in India with hundreds of happy clients.
Social Media marketing has many options for many marketing services like, launching a new product or promoting any existing product or service or generating brand-awareness, generating leads, etc which ultimately boost your sales. As an expert social media marketing company in Bangalore, we at Adbangs Technologies have developed many ways and technologies using social media channels in order to get the best result to reach your business at your desired height.
Our Social Media consultants will do a SWOT analysis of client business and their short and long time goals, Give Intro for client brand throughout the active and prospective social media networks and work keenly on adding more value and reap the most in calculated attempts through targeted campaigns. Social Media is the hottest among web properties today, Even several businesses run without maintaining a website using the interactive and instant responsiveness power of social media.
Online business is all about accruing dedicated community audience, social media websites are the best way to forge ahead a dedicated audience and let them well informed. Social media marketing or else known as SMM in short is the type of marketing which is conducted through the internet and it utilities the social net working sites as the tools for marketing. The main goal which is associated with social media marketing is the production of content which the various users is bound to share through their network in the social media. This in return creates a great help for the company in order to increase the size of the exposure of a brand and also to broaden the reach of any customer.
What We Do
At Adbangs Technologies, our social media marketing company creates social media campaigns using various marketing strategies to target the right audience on various social networks platforms like Facebook, Twitter, LinkedIn, Pinterest, Instagram etc. We are responsible to manage social media accounts for you.
When it comes to marketing on social media, it is important to create brand awareness to win over consumers' trust. Social media marketing not only makes your business or brand name familiar among your target audience, it also helps in increasing a company's public profile as well. It may take countless hours to hit a reputed audience without us- the best Social Media Marketing India.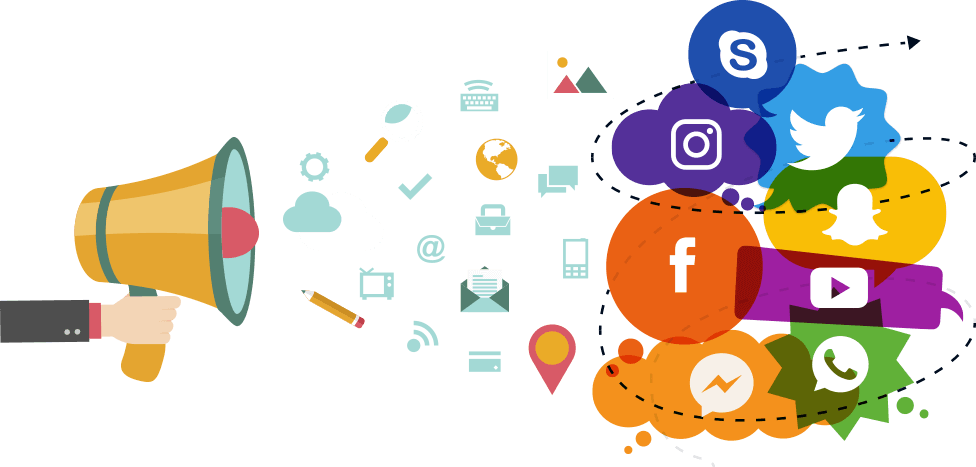 Extended Your Business
Social media marketing is a technique that involves using social media websites such as Facebook, twitter, LinkedIN, Pinterest and etc for promoting products/services online. Most social media websites offer avenue for sharing business information in the form of text, images, music and videos thereby providing a platform to talk about your business and get the audience engaged.
What we offer?
Facebook Marketing and Promotions
Twitter Marketing and Promotions
LinkedIN Marketing and Promotions
Pinterest Marketing and Promotions
Youtube Marketing and Promotions
Instagram Marketing and Promotions
Why choose Us?
Social media marketing not only makes your business or brand name familiar among your target audience, it also helps in increasing a company's public profile as well. it is easy to earn the trust of prospective customers through this mode when compared to the mainstream marketing methods.