Dynamic Website Development company Bangalore
A dynamic website is required for content such as online databases, e-business, collaborative content, membership, private areas, knowledge base, a resume or jobs database, online shopping site etc. dynamic website development cost is very less in our company.  A dynamic web page is any web page which has content that is changed by a program or script at the time the page is requested. Dynamic website means are pages that allow a user to set preferences regarding what kind of information will be displayed. Dynamic website development cost is lowest in our company.
Dynamic websites contain Web pages that are generated in real-time. These pages include Web scripting code, such as PHP or ASP. When a dynamic page is accessed, the code within the page is parsed on the Web server and the resulting HTML is sent to the client's Web browser.Most large websites are dynamic, since they are easier to maintain than static websites. This is because static pages each contain unique content, meaning they must be manually opened, edited, and published whenever a change is made. Dynamic pages, on the other hand, access information from a database.
What is dynamic website? A dynamic website is just creating an art form of introducing various content and providing user interaction by using intelligent coding and database in addition to HTML, CSS and javascript. If you compare static vs dynamic website then you can see dynamic web site is far more interactive.. Nowadays everybody wants a greatly functional interactive website. And if you are searching for one then you are at the right place.
Adbangs Technologies is one of the best dynamic web design companies in Bangalore. We provide dynamic website design service at least cost in BANGALORE. Our way of making websites gives you the ability to update content and add new content to your site. Do you want your web site to be super interactive and equally attractive, then you should contact us.
Dynamic websites
have a lot of good features.
1. Easy to Update: Dynamic websites hold a database of content and it can be easily updated where every page is a separate entity.
2. Interactive: A dynamic site allows you to personalize user experience with features like recently viewed items and pages, personalized product suggestions and location. With this, your website can easily reflect their experience on your site
3. Dynamic websites look professional & it will show customers that you're serious about your business.So, If your requirement is to create a interactive web site with easy content management, excellent user experience and great customization options, then it makes sense to choose dynamic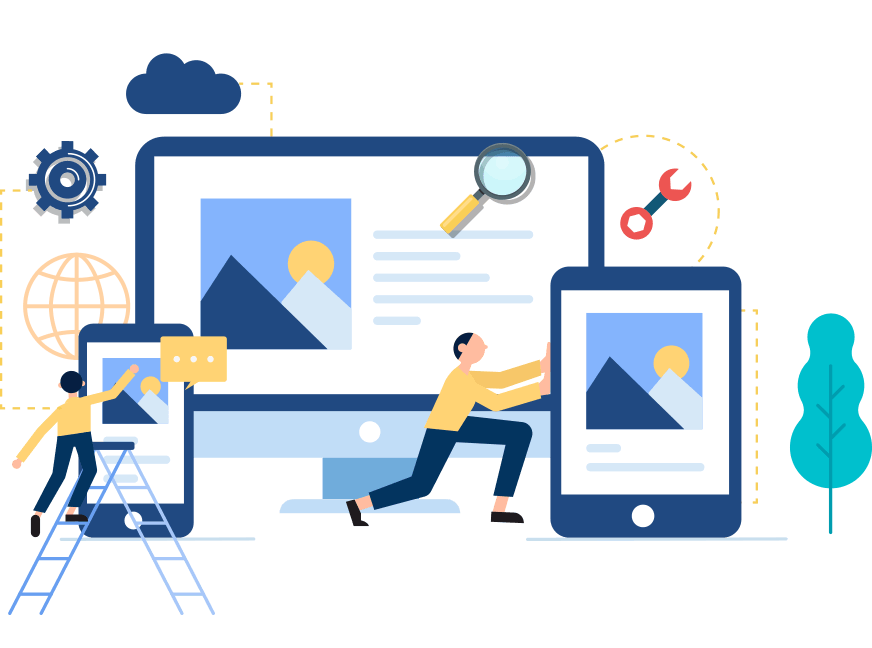 What We Do
Dynamic websites have more flexibility and functionality. This type of website not only uses HTML and CSS but include website scripting as well. To manage a dynamic website is much easier with right Content Management System for updating content or creating new pages. Benefit of this kind of website is that share the same HTML code for the menu, header and sidebar between all pages of the site. There are some common frameworks and scripting languages are used for dynamic websites like JavaScript, PHP & ASP.NET.
Our Experienced Web designers and ultimate Programmers
Well experienced team who work in complete coordination and co-operation to complete every project well on time without compromising on quality.
We are one of the best web designing companies in Bangalore. Our idea is to help you have a dynamic website that will not only look great, but fulfil the needs of both you and your target audience. If you are looking for the most affordable, creative, Reliable professional website then we are here to give our full support.
When you think about making your business website, it's very important to identify which type of site you want. If you want to interact with web page that people not just read but can use and you want to able to share HTML code between your pages, a Dynamic Website is a perfect solution for you. We design customize create customize design to give your website unique look and feel in big competitive crowd. A client's Website Design Service is tailored to reflect the existing brand and the characteristics of their business and industry. Web Designers and programmers at adbangs will ensure that the result achieved for your Web Design is unique and distinctive.
Dynamic Websites
Dynamic Website Development Company Bangalore helps to meet all the requirements of a dynamic website development for every client with the help our our easy to use interface. Furthermore, our designers and web architects has a good hand in creating required features from scratch or integrating third party products to existing websites.
List of Features
More attractive for the users
Easy way of updating Data
Top ranking on major search engine
Capturing user information
Why choose Us?
Dynamic website is a kind of site that's content can be changed easily by a program at the time the page is requested. It allows user to set preferences about what kind of information should be displayed.